Description
Black granite kitchen looks beautiful. Black granite will work amazingly well in a traditional kitchen space. If your kitchen is rich with wood, rustic elements or has a colorful backsplash.
Black granite looks great with any color flooring, furniture, and wall colors. It's a very durable material than White Granite. Black Granite has a high resistance to water and acids, making it perfect for a kitchen where food is prepared and served.
Black Granite is also very strong and durable, making it a great choice for kitchen countertops and other high-traffic areas. Granite can also be used for flooring, wall cladding, murals, and other artwork. If you're looking for an amazing flooring or countertop option, you must check out black granite.
Black Granite is an ideal match to go with any cabinet or furniture color. Browse through our premium quality of black granites available in multiple colors, textures.
Black granite countertops make an ideal choice for kitchens. They are durable, moisture-resistant and hard-wearing and require a low-maintenance.
Black isn't the first theme that comes to mind when you are planning the decor of the house, let alone the kitchen. But a black granite kitchen is hard to ignore. It is bold, versatile, and perhaps the most unique taste of style. This post thus covers some of the best kitchen designs with black granite stone.
We have tried to cover it all, from a highly sophisticated/premium look to an ever so pleasing standard style. Have a look at each and every option to decide whether such a dark theme is for you or not.
When we talk about the black granite top, please note there is a lot of variation in this color apart from jet black. For example, look at this beautiful granite black countertop which is grained with white too. Such a black variation is a good way to tone down the loudness of black stone.
Before going ahead with the design of your black kitchen, we will strongly recommend you to see all the available designs on the stone. A black granite kitchen looks different with every granite stone pattern. Look at this bold texture of gold on the stone, interesting and bold at the same time!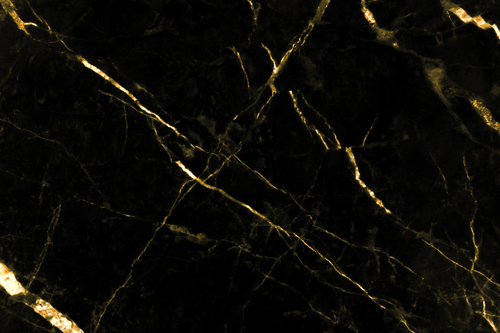 Combine Black Granite Kitchen Design with Wood
You will be happily surprised to see this combination of black and wood! If you are aiming at a very chic black granite countertops kitchen, this should be your final choice without any hesitation. You will see a lot in black & white, but don't fail to register black & wood!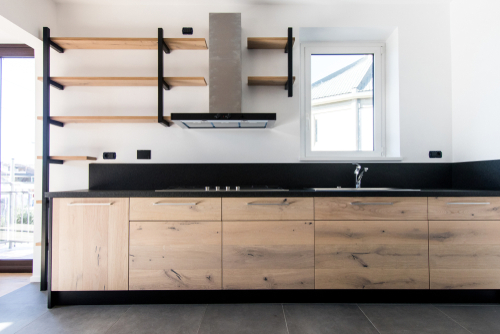 Use Contrasting Element for Black Granite Kitchen Design
The black theme is a tricky choice, no doubt! One sure way to increase its visual effect to break the dark theme monotony, try including some elements of contrast in the picture. It can be the wall paint or cabinet colors or anything else. Take some inspiration from this gold-colored sink to create such contrast.
Veins on Black Granite Kitchen Design
Granite stone comes in various colors & textures. Especially with black granite stone, look out for bigger and larger veins in white or grey or gold or brown whatever holds your liking. Again, a great way to bring in some variety in the black theme.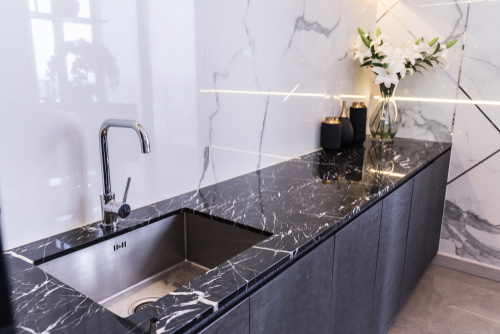 Veins pattern on the stone
Different Shades of Black Granite Kitchen Design
Still fixated on black granite stone for the kitchen, then you should try incorporating different shades of black to create much-needed visual demarcation. For instance, here the home buyers have used lighter black (grey) with black matte. Looks good right?