Description
Marble Floor Inlay Design mpk-722 is a graceful design . Having a marble inlay at home means enjoying your own dwelling as well as appreciating those elegant and luxurious creations which are capable of giving prestige to your domestic spaces.
Of Arabic origin, the term "inlay" refers to the art of making figures by skillfully inserting other elements of the same material on a flat surface. Marble inlays are very frequent but inlays are also common in wood, ivory and stones.
We create truly one-of-a-kind marble floor inlay products for your home. Our designs are inspired by the timeless designs of historical Parisian interiors to refined Venetian plasterwork flourishes,.
From the ornate furnishings you'll find finest European chateaus to the paired back luxury of fashion forward cities around the world.
Using our initial custom marble design collections as inspiration, our designers develop individualized marble inlay flooring and patterns by reimagining these inlays with you as our primary influence.
We consider your discerning tastes and preferences, the architectural influence of your space and historical, cultural references to reimagine our design collections into a stunning piece of custom art.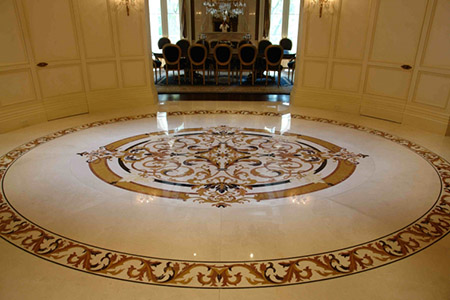 Our ongoing commitment to precision, detail and innovation is what makes us the premier marble inlay design and creation company.
Every marble inlay flooring project is unique, and our experienced design team approaches every task with an individualized plan to exceed your highest expectations and ensure lasting results in marble floors.
https://www.youtube.com/watch?v=ypIeFlot0Ukhttps://www.youtube.com/watch?v=pvKqVVQCBzMhttps://www.youtube.com/watch?v=ypIeFlot0Uk